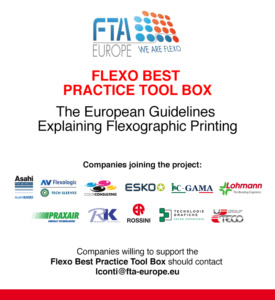 Presentation
The project brings together international cross-industry expertise to provide a practical best practice reference document for printers and suppliers that aim to improve their flexo performance – including productivity, maintaining image and product quality, on-press operations, ink and drying systems and materials and substrates. The project is led by FTA Europe, in collaboration with icmPrint for the coordination of the technical aspects related to the editing of the final documents.
Structure
Creation of two self-contained synergistic best practice guides:
Guide 1: Maintenance and Press Analysis, including test forms to assess press performance, optimise quality and productivity maintenance.
Guide 2: Consistent colour, including production at multi-sites, extended gamut and fixed colour palette, measurement, engraving and plate types. It is planned to include test printing at several sites.
Support
The Tool-Box requires funding from the flexographic industry and FTA Europe counts on European flexo companies to support the project. Supporting companies are expected to make a technical as well as a financial contribution. Financial contribution consists in a financial support whereas  technical contribution consists in sharing technical knowledge of flexography and attending regular meetings via web or face-to-face. Each guide will require a face-to-face meeting of the project sponsors' technical team in Europe, supplemented by regular web meetings.
Current supporting companies 
11 Companies: Uteco, I&C-Gama, Lohmann, Asahi, Esko, Praxair, RKPrintCoat, Rossini, AV Flexologic-TechSleeves, ColorConsulting, Tecnologie Grafiche
For more information or join the project please contact lconti@fta-europe.eu