FTA Europe and Intergraf together with Smithers will organise the conference Shaping the Future with Packaging, on Thursday 9 and Friday 10 March 2023 in Brussels.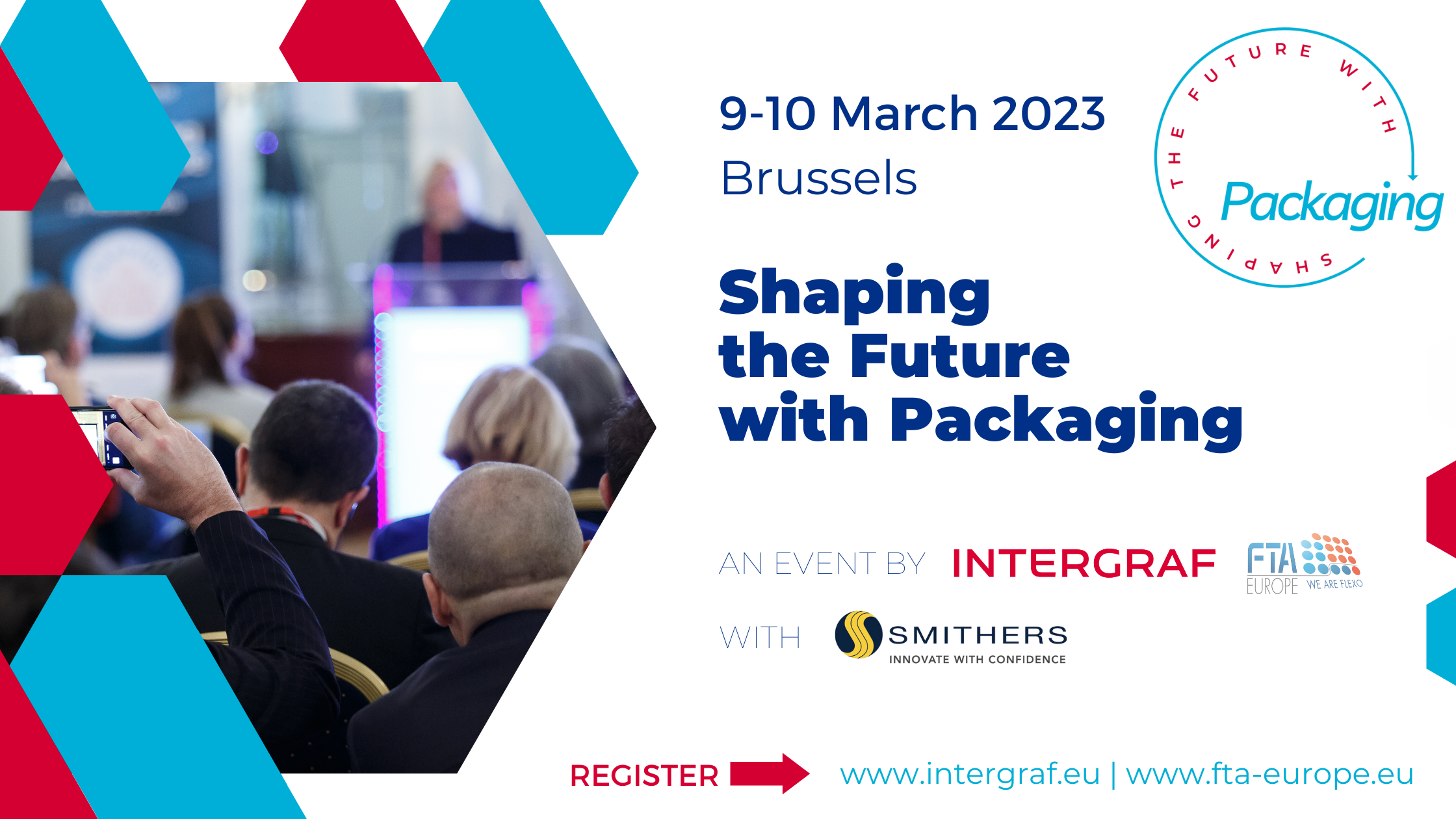 Registrations for Shaping the Future with Packaging are open! Register here.
Event Content
Shaping the Future with Packaging will focus on the European packaging market. This event is a 'must-attend' for anyone with an interest in this vibrant sector. Participants will hear from speakers on a range of packaging-related topics – from sustainability, food contact materials, and product design, to EU policy, and more.
Programme
To allow people to travel to Brussels, the conference will take place over two days: during the afternoon and evening of 9 March and the morning of 10 March. The event will be held at the Hotel Le Plaza Brussels (Boulevard Adolphe Max 118-126). A networking dinner will be organised on 9 March.
Agenda
Take a look at the latest version of the event agenda here.
Speakers
Tom Hallam, Project Director, Packaging Consultancy at Smithers
Maja Desgrees du Lou, Policy Officer (DG Environment) at the European Commission
Olga Munroe, Head of the Retail Institute at Leeds Beckett University
Susanne Lippitsch, Packaging Designer at SL DESIGN
AIM (European Brands Association) or Holy Grail 2.0 member representative presenting the watermark "Holy Grail 2.0"
Peter Ragaert, Director at Pack4Food & Professor of food packaging technology at Ghent University
Market Report
For each event in this series, market research expert Smithers provides exclusive economic analysis. Shaping the Future with Packaging will be accompanied by the European Packaging Market Report 2023 containing both Smithers' market data and an overview of the conference. Participants will receive this report free of charge as part of the event package.
Fees
Printing company belonging to Intergraf member association – 190 EUR + VAT
Company belonging to FTA Europe member association – 190 EUR + VAT
Non-member printing company – 395 + VAT
Non-member supplier company – 495 EUR + VAT
Accommodation
We have reserved rooms at Hotel Le Plaza at special rates. Reserve your room via this booking link.
How to reach the venue
Find here some practical information on how to get around in Brussels.
Sponsorship
Gold sponsors
Silver sponsors
Are you interested in sponsorship opportunities? See our sponsorship packages and get in touch with Despoina Melissinou at dmelissinou@fta-europe.eu.
Terms and Conditions
You can download the event T&Cs here.