What is flexographic printing?
Flexography is a direct rotary relief printing system predominantly used within the packaging industry that offers both high quality and extreme versatility in the production of any sort of packages, from labels to flexible films, paper, cardboard and corrugated carton.
Flexo is the single largest printing process in Europe, and is a growing sector due to its use in the packaging and label producer markets – fuelled by the growth in eCommerce. The valued output of the flexo printing industry in 2018 was €39.2 billion.
Packaging
A major market for flexo printers is packaging – who dominate over other printing technologies for these products. The below chart shows the European printed packaging market by print process in 2017.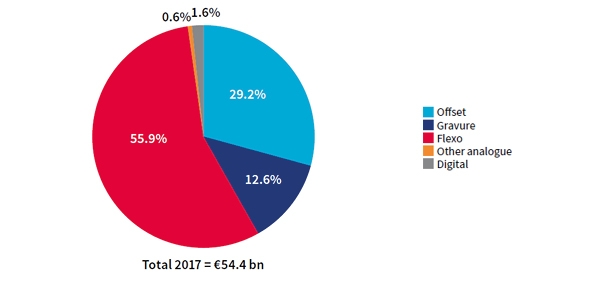 By 2022, the flexo printed packaging market is predicted to be worth €32.0bn. Flexo dominates in part due to the fact that the technology can carry out long runs, which printing processes such as digital printing cannot.
The vast majority of packaging is printed, cementing this as a key market for flexo printers for the foreseeable future.
The technology