PRESS RELEASE
24 FEBRUARY 2021
BRUSSELS, BELGIUM
The finalists have been chosen. On 18 February, a panel of packaging and flexo printing expert judges chose the winning companies from the 180 samples which were entered into the 2021 Diamond Awards. In the attached image, FTA Europe is proud to present the exceptional companies which have made it into the final and will compete in the 14 flexo print categories. Congratulations to our finalists!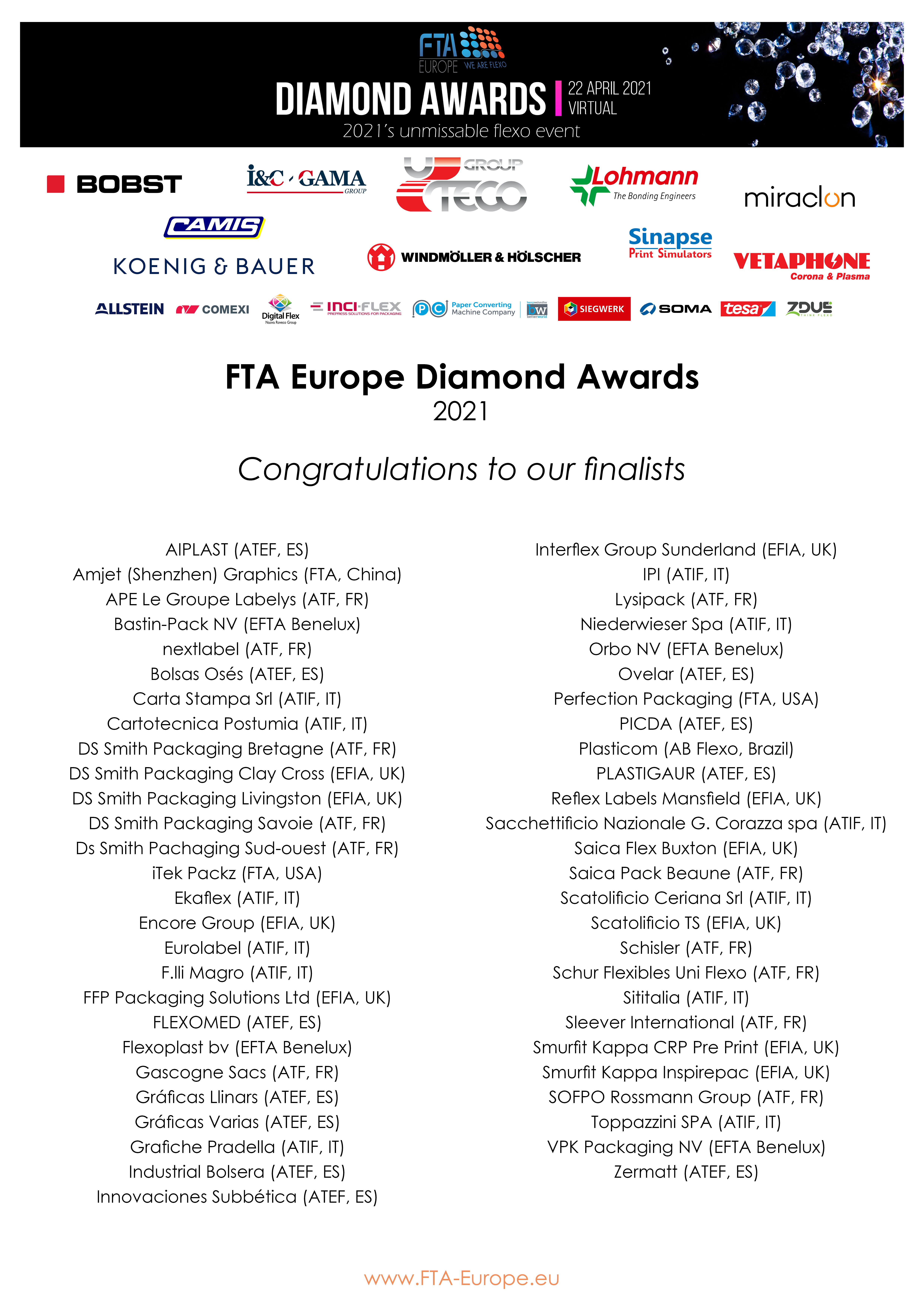 The categories are:
1. Flexo print on paper and labels – UV ink, narrow web
2. Flexo print on paper, medium web
3. Flexo print on paper, wide web
4. Flexo Print on paper, super wide web / pre-print
5. Flexo print on film and labels – UV ink, narrow web
6. Flexo print on film, medium web
7. Flexo print on film, wide web
8. Flexo print on film, laminated
9. Corrugated post-print, coated
10. Corrugated post-print, uncoated
11. Creative use of flexo and innovation
12. Flexo Print on Aluminium
13. International
14. Best in Show
All entries are national gold winners, meaning the Diamond winners are truly the best of the best. Find out who has won this 'Champions League' of flexo printing at the virtual event on 22 April 2021.
FTA Europe sincerely thanks Bart Calis (Arteveldehogeschool), Dirk Cantens (Steurs), Dirk Goethals (Athena Graphics), Patrick De Grande (Quatre Mains) and Frank van der Mei (Jumbo) for using their expertise in print and design to choose the winners. An intense day held under strict COVID-19 measures, the judges managed to examine all 180 samples and choose the most exceptional flexo printed products to be finalists of this year's Diamond Awards.
The 2021 Diamond Awards will be the only major flexo event in Europe this year. FTA Europe will use the latest in awards ceremony software to stream this event, which includes a sophisticated networking platform. The Diamond Awards will be the key opportunity to meet with your flexo colleagues and customers.
Our winners will be on stage in front of a huge global audience, and every member of staff who helped make the winning products will be able to watch the event. This truly open event is only possible with the online format.
We warmly invite you to join this very special FTA Europe Diamond Awards on 22 April 2021. Save the date and don't miss out on being part of flexo history!
– ENDS –
Notes to Editor
FTA Europe represents the common interests of the European flexographic (flexo) printing industry. The association provides a common platform for national flexo associations in Europe to collaborate in areas of shared interest, and also advocates for the industry to the EU institutions. The office of FTA Europe is located in Brussels. For permission to use these photos, contact the Secretariat.

CONTACT PERSON: Annie Scanlan, Events & Policy Officer Email: ascanlan@fta-europe.eu