PRESS RELEASE
15 SEPTEMBER 2021
BRUSSELS, BELGIUM
FTA Europe will host the Diamond Awards 2022 on the 5th of May 2022, on the occasion of the Print4All exhibition (3 – 6 May), in Milan, Italy.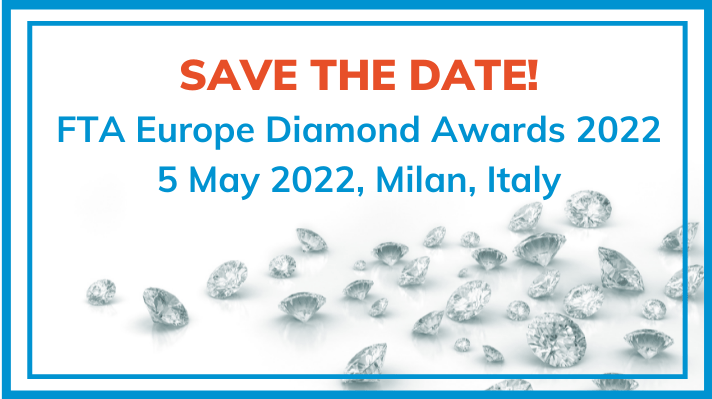 Winners of national flexographic printing awards of all of FTA Europe's members will be entered into the Diamond Awards to compete at European level. The Awards will feature the best flexo products in 14 different categories including also one international category and, of course, the very coveted "Best in Show".
The last 18 monhths were challenging for the entire world. We are thankful that we still had the opportunity to celebrate excellence in flexography and bring the flexo community together in our virtual Diamond Awards 2021.
Next year's awards will be celebrated in-person in the beautiful city of Milan. Of course, we will ensure that we celebrate the best in flexo in the safest way possible.
Remember to keep an eye on our LinkedIn page and website, as we will announce more information about the FTA Europe Diamond Awards 2022 soon.
We are committed to make this an unforgettable award show!
– ENDS –
Notes to Editor
FTA Europe represents the common interests of the European flexographic (flexo) printing industry. The association provides a common platform for national flexo associations in Europe to collaborate in areas of shared interest, and also advocates for the industry to the EU institutions. The office of FTA Europe is located in Brussels. For permission to use these photos, contact the Secretariat.
Contact person: Despoina Melissinou, Membership & Events Officer | Email: dmelissinou@fta-europe.eu