PRESS RELEASE
26 MAY 2021
BRUSSELS, BELGIUM
The Intergraf and FTA Europe Guide to Applying Food Contact Materials Legislation has been published. This guide is aimed at printing and converting companies making printed food contact materials and is publicly available on our website.
To create our latest guidance document FTA Europe partnered with Intergraf, the association representing the European graphical sector. Together, we have prepared a guide to the applicable legislation and the basic legal requirements for food packaging printers. The aim is to help printers demonstrate that they are legally compliant. The guide should be viewed as the basic best practice advice which all printers should follow.
Regardless of size, all producers throughout the food contact material supply chain must fulfil their obligations under EU and national rules. With this in mind, the guide provides an ordered check list, so that printers can be sure that all steps have been followed, and the risk of contamination has been minimised.
The complexity of proving compliance is in part due to the lack of harmonised legislation at EU level for all substrates. The European Commission is currently reviewing all legislation applicable to food contact materials and will present new legislation on printed food contact materials in 2022. This guide serves the purpose of bringing together all legal requirements in the absence of a clear legal framework.
Packaging is a highly innovative and growing market in Europe. Legislative updates will need to respond to this, particularly to ensure that small printers and converters can easily demonstrate compliance with food safety rules.
This guide is publicly available on the FTA Europe website here.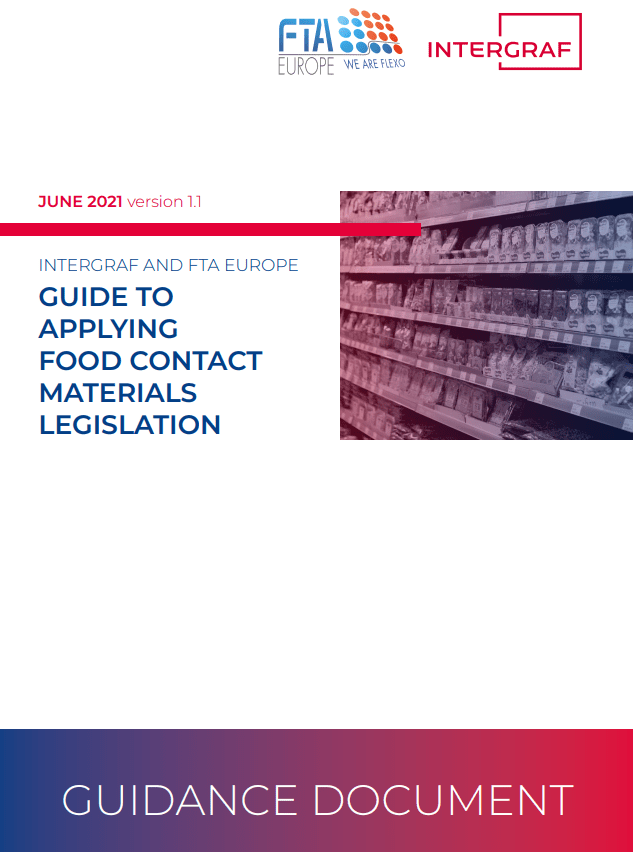 Notes to Editor
FTA Europe (www.fta-europe.eu) represents the common interests of the European flexographic (flexo) printing industry. The association provides a common platform for national flexo associations in Europe to collaborate in areas of shared interest, and also advocates for the industry to the EU institutions. The office of FTA Europe is located in Brussels. For more information contact the Secretariat: info@fta-europe.eu
The European printing industry is made up of some 110,000 printing companies (95% SMEs), which employ 600,000 people and generate a combined turnover of €79 billion. Intergraf (www.intergraf.eu) is the European printing industry association, representing employers in this sector. We are a Brussels-based umbrella organisation with 21 members from 20 countries. Our primary task is to represent and advocate for the printing industry in Europe, working with European Union to support the sector's competitiveness through advocacy, information-sharing, networking, social dialogue and European projects. Contact Alison Grace, Communications & Policy Officer at Intergraf, for more information: agrace@intergraf.eu.